Ref:
Date:
Location:
Photographer:
Ref:
Date:
Location:
Photographer:
News
Ferens Open Hull
17/02/18
This open exhibition will be at Ferens Art Gallery Hull from 17 February - 22 April 2018 open 7 days a week
one of Jane's Steel Works paintings will be included
Chapter 1
09/02/18
an inaugural exhibition in a new space, Number23,
100 Clements Rd, Block F, The Old Biscuit Factory SE16 4DG, nearest underground; Bermondsey
10-15 February 11.00-18.00 everyday
Lines
20/01/18
Jane will be doing a solo exhibition at 20-21 Centre Scunthorpe opening on 20 January 2018
NN Open Northampton
13/01/18
Jane is pleased to have one of her Tram paintings from Sophia selected for this Open. PV 12 January 2018
07/12/17
an exhibition of work measuring 20"x 20", at Access Space Sheffield Exhibition preview Thu 7th Dec 6-8pm, exhibition runs Weds-Fri 8-21 Dec, and then 4-19 Jan 2018, opening hours 11-5pm
...more
29/11/17
Jane will be taking part in a 12 hour residency at the Crux Wakefield, making work and talking to visitors 9.00am -9pm
...more
OUTPOST members show 2017
01/11/17
selected by Andy Holden 10 Nov-17 December 2017 opening Thurs 9 Nov 6-9pm
Jane is included in this show
10b Wensum St, Norwich NR3 1HR
Electric Open, Congleton
21/10/17
the preview of his Open exhibition will be on 21 October 12.00 -3 pm, Jane has 4 works on show
Doncaster Open Exhibition
14/10/17
Preview of the exhibition 14 October 11.00am, runs till 10 December, Jane has a self portrait in this show, she was awarded the 'Highly Commended' prize.
30/09/17
this is an exhibition of works on paper measuring 20x20cm, all work donated by artists and to be sold to raise money for 'Hospital Rooms', London.
Jane has a piece in this show.
...more
21/09/17
An American European exchange of Art & Writing in the Hess & Lyet Gallery of Elizabethtown College, Elizabethtown 17022, Pennsylvania, USA. Jane Walkers painting from the [Kun:st] Art Prize Stuttgart is in this exhibition
...more
19/09/17
An exhibition of about 20 artists curated by the Hornshaw Gallery, at A & D Gallery, 51 Chiltern Street, Marylebone, London
...more
Residency July 2017 in Sophia
01/08/17
Jane has just completed a residency with WorldofCo, Sophia, Bulgaria 1/7/2017-1/8/2017
LAYERS, an exhibition of the artist in residents work World of Co

26/07/17
this is a pop up exhibition in Sofia, World of Co AIR 19-22hrs, 167 Evlogi &Hristo Georgievi Blvd, Sofia
Legend, MOMA Machynlleth 8 July to 31 August 2017
08/07/17
Jane has a small oil painting in this themed exhibition
Dreams and Extremes, Lichfield Art Prize
07/07/17
Lichfield Festival, Jane has a piece in the finalists exhibition in Lichfield Cathedral, 7-15 July 2017
[Kun:st] International, Stuttgart
19/05/17
An exhibition promoting peace in European art, May 19th to June 24th 2017, Jane has a piece included in this exhibition at Galerie Kerstan, Breitscheidstrasse 48, 70176 Stuttgart. www.galerie-kerstan.de
Antennae, London
12/05/17
open call exhibition, Lubomirov / Angus Hughes, 12-14 may
Amateras paper art exhibition, Sofia
11/05/17
Jane Walker's entry has been selected for this exhibition, she is listed as the only UK artist to be accepted.
07/04/17
Discovering the Paintings of Jane Walker
April 8th - April 15th
Opening Night: Friday April 7th, 18:00-21:00
...more
International Postcard Show,
17/01/17
Jane has a piece in the postcard show at Surface Gallery, Nottingham from 13 January 2017
ARTery, an exhibition of painting and sculpture, at St Katharine Docks, London, curated by Plastic Propaganda
04/12/16
open 4-18th December 11-6pm. closes 4pm on 18th December
Doncaster Open exhibition
15/10/16
Jane has a painting in this open exhibition, the opening reception starts at 11.00am 15th October, Doncaster Museum and Art Gallery, Chequers Road, Doncaster, exhibition runs to December
Community, a local exhibition
18/09/16
In a time of changes and uncertainty we want to celebrate our community, friends, families and places that unify us.This is an exhibition at the Old Junior School, South View Road, S7 1BD. (Sheffield),It is organized by igniteimaginations.org.uk
Jane has work in this exhibition. Open weekdays 8.30-4.30, when the cafe is also open, till mid December
Sugar and Spice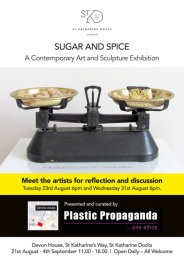 21/08/16
a group exhibition with 19 artists in St Katharine Docks
Engagement AND Entrapment
20/07/16
Smoke screen and Masquerades, a group exhibition, curated by Diana Ali, at GAIA Gallery, Seoul, South Korea www.galerie-gaia.net from 20th July -29th July Jane Walker has work in this exhibition
Platform Harrogate 2016
15/07/16
Platform Exhibition 2016 will be open from 15th-17th July at Morphets 6 Albert Road, Harrogate
Jane Walker will be exhibiting 2 of her Timelines pieces
City Lines
04/07/16
solo presentation of Jane Walkers work at Garbos Gallery Wall, 11-13 Albert Rd, Portsmouth. PO5 2SE 4 July- 5 September 2016 organised by Sticks Gallery, Fareham
Les Papillons de Carpentras, France
03/07/16
outdoors exhibition of large canvases, Jane Walker has a piece in this manifestation running through July and August in the streets of Carpentras
Not the RA Alexander LLewellyn Gallery, London
07/06/16
Jane has 2 works on paper in the gallery from 7 June -20 August please visit the gallery where you will be made welcome.
Alternative Nature, at Electric Picture House, Congleton Cheshire
21/05/16
Jane has 3 drawings in this exhibition
02/05/16
2-19 May 2016 Paper Art Exhibition Art Alley Gallery, Sofia, Bulgaria
...more
18/03/16
18th March-28th May 2016 Peterborough Museum
...more
Anonyme Zeichner
12/03/16
Jane Walker has a drawing in this touring exhibition, which runs from 12 March to 10 April at Stadt- und Industriemuseum Russelsheim
Salon International d'Art Contemporain, Marseille
11/03/16
Jane walker presented new work here from 11-14 March 2016
12/02/16